Meet the Team
About Coastal Shores Vacations
The Coastal Shores Promise
We're a 3rd generation property management company - this is our 25th year in business! We take pride in our operation with a family-owned mentality and precision-driven technical infrastructure. All of this because we value our guests' vacation time just as much, or more, than they do. After all, we're in the relationship business - ours, yours and your family's.
You can count on us to be thorough, honest and responsive, 100% of the time. Coastal Shore Vacations offers vacation rentals for families seeking the ultimate guest experience so that they can make the most of their time away from home by strengthening relationships with one another.
Meet the Coastal Shores Team
Lea Wey - Reservations Specialist
Lea was born and raised on the Jersey Shore. She moved to Chincoteague in 2016 to be an Innkeeper at a local hotel, and instantly fell in love with the island and its community. Her passion is helping people, and working in hospitality has given her a way to do that every day. She also is a licensed REALTOR in Virginia, and enjoys helping others make their move to the beautiful Eastern Shore. In her spare time, she enjoys volunteering, reading, yoga, and of course, spending as much time as possible at the beach! 
Cassady Williams - Reservations Specialist
Hi there! My name is Cassady and I am originally from Chincoteague Island. My grandparents were raised here, as well as my mother... our roots run deep! Currently I reside just off of Chincoteague Island with my three-year-old daughter, whom I love to spend all of my time with. We love to ride over to the island and enjoy each other's company - our favorites are the waterpark, nature trails, and all of the delicious food! I have always loved the beautiful atmosphere that the Island has to offer. Chincoteague is a wonderful place to vacation. Whether you enjoy long walks on the beach, or a waterfront sunset dinner, there is something for everyone!
Nikki McGoldrick - Homeowner Relations/Accounting
Born and raised on the good ole Eastern Shore, Nikki is no stranger to our wonderful Island and surrounding areas. Having worked in property management for a many, many years, she decided to further her career as a licensed Realtor in Maryland and Virginia. Along with her recently adopted pup and adventures with her husband, Nikki also enjoys reading, sunrises and spending time with family. 
Chris Wey - Property Care Department Manager
Chris was born and raised in North Jersey. He met his wife, Lea, on the Jersey Shore in 2015. In 2016 he and his wife moved to Chincoteague to work together as an Innkeeper couple. Chris is passionate about hospitality and has a knack for anticipating needs. He has been trained in many lead roles in the hospitality sector from housekeeping and hotel management to concierge service and fine dining. Live music, good food and fun atmosphere is how Chris enjoys spending his free time with his family.
Charlie Clarkson - Property Care Technician
Charlie was born and raised in Baltimore, Maryland. His grandfather, "Pop", had a family vacation home on Chincoteague, which the family would visit every summer and holidays during his childhood. Charlie bounced back and forth between Baltimore and Chincoteague before the island became his home in 1993. His prior work experience was with the local restaurants for 25 years, and Charlie is looking forward to the journey ahead with the Chincoteague Resort team. Skateboarding, diesel trains (real or model)  and "just getting out and going" are a few things Charlie enjoys during his spare time.The small things along the adventure are what makes it an adventure of a lifetime.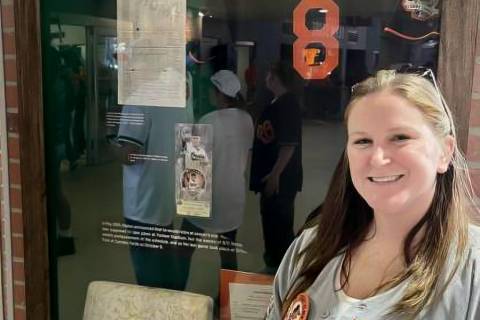 Candia Walker - Property Care Specialist/Housekeeping Coordinator
Candie was born and raised on the Eastern Shore; she grew up in the small town of Cape Charles. She loves everything the Eastern Shore has to offer... from the acres of farmland to the miles of bay, this has always been home for her and she would never considered leaving! Candie enjoys spending time with her family, friends & her dalmatian, Ember. If she is not at work you can find her at the beach or cruising down the backroads with some good tunes on! 
Nicolette Hickman - Operations Accounting
Nicolette was born in NY and relocated to the small town of Chincoteague Island during her young elementary years. As a 3rd generation property manager, it was only natural that after graduating high school she continued her education in the Real Estate field. Nicolette is a licensed Real Estate Broker in the State of Virginia and holds several professional designations. You can definitely say that real estate and property management are in her blood! In her free time, Nicolette enjoys spending time with her family, traveling and reading.  A visit to Fiji is on the bucket list! She is most proud of her 3 children (Chandler, Lilly and Ellie) and all of their accomplishments!